Regensburg And OFFICE BUILDING
Over 150,000 people live in Regensburg, making it the fourth largest town in Bavaria as well as the capital of Upper Palatinate. It boasts a university as well as modern, technologically orientated infrastructure, offering unique work and leisure conditions against the imposing background of nearly 2000 years of history.
The foundation of a university and a university of applied sciences in the 1970's rapidly brought about an economic boom.

Many large companies set up branches in Regensburg, including Siemens/Infineon, BMW and Toshiba, in order to profit from the region's excellent workforce potential.

Since 2006 Regensburg's Old Town has been a UNESCO World Heritage Site, because of its historical buildings, which form the largest medieval town north of the Alps.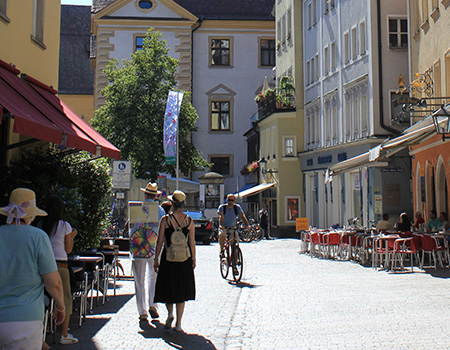 Regensburg boasts Germany's second largest employment concentration, with 760 jobs per 1000 inhabitants. Regensburg's rate of unemployment is below the Bavarian average.

A further positive effect of Regensburg's universities is the large number of students, which is very high when compared to the town's relative size. This accounts for the fact that Regensburg has a distinctly youthful flair despite its age. Thus, there are many students' bars and clubs in addition to the traditional restaurants and cafés. Furthermore, the area surrounding Regensburg offers many additional leisure opportunities. The Bavarian Forest, Munich, Nuremberg and the Alps are further regional attractions that are within easy reach. For further information, the city of Regensburg provides the brochure Lifestyle.Research.Employment.
CipSoft's offices are located on the third floor of the former EON building, which is protected as a historic monument. It is situated on the western outskirts of the old town and adjoins directly to the largest inner-city park in Regensburg. The office space not only provides an open kitchen and a comfortable lounge, but also an arcade area with various gaming consoles, gaming PCs as well as a virtual reality cave.

On the occasion of Tibia's 25th anniversary, we made a behind-the-scenes video in which viewers are shown around the office and get to meet CipSoft's four founders.